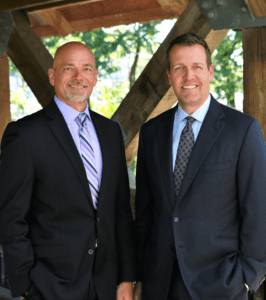 Were you injured in an accident involving an electric scooter in DuPage County, IL? You may be entitled to significant compensation. An experienced DuPage County electric scooter accident lawyer at Law Offices of Mathys & Schneid can help you fight to recover compensation for medical bills, lost income, pain, suffering, and more.
Collectively, our lawyers have over 75 years of experience handling personal injury cases like yours. Since we opened our doors, we've helped our injured clients recover over $150,000,000 in settlements and verdicts.
You deserve to understand your legal options if you were injured in an accident. Contact our law offices in DuPage County at (630) 428-4040, Illinois to schedule a free consultation today.
Our Team at Law Offices of Mathys & Schneid Is Here To Help After an Electric Scooter Accident in DuPage County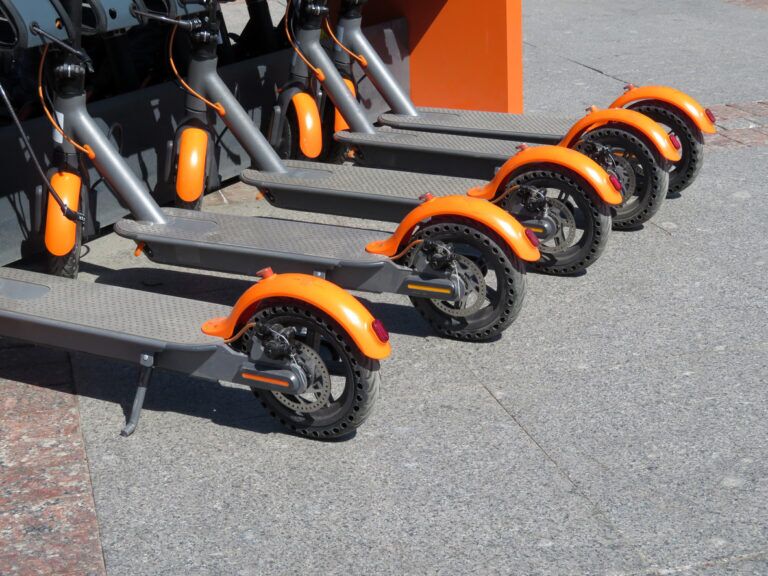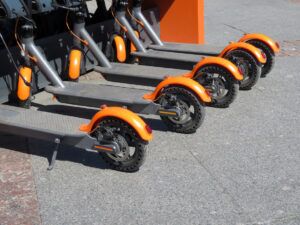 Accidents involving e-scooters can be complex. Victims are extremely vulnerable to severe injuries. When you're injured, you deserve time to recover without worrying about legal issues. An experienced DuPage County personal injury lawyer at Mathys & Schneid Personal Injury Lawyers can help.
Over the years, members of our team have been recognized as Super Lawyers and Rising Stars. We know what it takes to help you recover the maximum compensation you deserve.
When you hire us to handle your legal representation, our team will:
Provide guidance and support throughout the legal process
Gather strong evidence to establish causation and liability
Consult respected experts and specialists as we build your case
Defend you against any allegations that you caused the accident
Carefully review the facts as we calculate your case value
Take care of all insurance negotiations, paperwork, and communications on your behalf
The legal process can be difficult if you don't have much experience handling these types of cases. An experienced DuPage County personal injury attorney can help ease the stress. Contact us today to learn more about how we can fight for you.
Are Electric Scooter Accidents Common?
Electric scooters are now legal on the streets of many U.S. cities. In fact, electric scooter rentals are becoming more popular in DuPage County. In Illinois, e-scooters are permitted in any areas where bicycles are allowed.
Electric scooter accidents and injuries are on the rise throughout the country. According to one study, hospital admissions due to e-scooter injuries increased by a shocking 365% over a four-year period.
Between 2017 and 2019, over 50,000 electric scooter accident victims visited emergency rooms. At least 27 people were killed in e-scooter accidents nationwide.
How Much Compensation Can I Recover By Filing an Electric Scooter Accident Claim in DuPage County?
Lawsuits can be unpredictable. So can insurance negotiations. It's common for injured parties to wonder how much their case is worth before devoting their time and energy to a legal battle.
The unsatisfying answer is that there is no one-size-fits-all answer to this question. Before we estimate your case value, our lawyers will have to investigate and review the specific facts of your case.
The value of a personal injury case depends on many different factors, including:
The type of injuries involved
The cost of your medical treatment
Whether you miss time at work and lose income
Whether the injury will impact your future earnings
The circumstances of the accident and whether you share fault
The types of pain, suffering, fear, and emotional trauma you have suffered
Your case is different from anyone else's personal injury claim. You can count on our lawyers to give you the personal attention you deserve. To learn more about how a DuPage County electric scooter accident attorney can help you assess your case value, call Mathys & Schneid Personal Injury Lawyers for a free case review.
What Types of Damages Can I Recover From the Party Who Caused My Electric Scooter Accident?
In personal injury cases, damages are awarded to compensate victims for economic and non-economic losses.
Some common examples of damages that you may be entitled to receive include:
Past and future medical expenses
Lost wages
Loss of future earnings
Rehabilitation
Nursing assistance
Property damage
Pain and suffering
Emotional distress
Depression
PTSD
Anxiety or fear
Disfigurement
Scarring
Humiliation
Diminished quality of life
Loss of consortium
In other words, you can seek compensation for the financial losses you incur because of the accident. You can also pursue compensation for your personal, non-monetary losses.
What Will Happen If the Insurance Company Is Blaming Me for an Electric Scooter Accident in Illinois?
Injured parties can also share blame for an accident. Negligent parties often blame victims for causing their own injuries.
Under Illinois' modified comparative negligence law, you can recover compensation as long as you were 50% or less responsible for the accident. Once your share of fault reaches 51%, you cannot sue for damages.
What Types of Injuries Do Victims in Electric Scooter Accidents Sustain?
Like bike accident victims, e-scooter accident victims tend to suffer serious injuries. That's especially true when the e-scooter rider is involved in a car accident.
At Mathys & Schneid Personal Injury Lawyers, we often help injured victims who have suffered:
Crushing injuries
Closed-head injuries, including concussions
Other traumatic brain injuries
Facial injuries, including broken noses
Ankle and wrist injuries
Shoulder and knee injuries
Head and neck injuries
Organ damage
Burns and "road rash"
Amputations
Paralysis
Catastrophic injuries
While rare, electric scooter accidents can also be fatal. If you lost a loved one in a fatal e-scooter accident, contact our lawyers in DuPage County today. We can help you fight to recover compensation for the wrongful death of your loved one.
What Are the Leading Causes of Electric Scooter Accidents in DuPage County, Illinois?
While the state of Illinois has adopted laws governing the use of electric scooters, not all e-scooter riders and rental companies follow the rules. That can increase the odds that you might be involved in an electric scooter accident.
Some of the most common causes of electric scooter accidents include:
Distracted driving
Failure to yield the right-of-way
Operating the e-scooter outside of permitted areas, such as bike lanes and paths
Riding double on the electric scooter
Speeding
Aggressive driving
Violation of traffic laws
Failure to park the e-scooter in safe locations, which can cause pedestrians to slip and fall over the scooter
Operating the e-scooter while under the influence of drugs
Drunk driving
Potholes, cracked pavement, and other dangerous road conditions
Defective scooters
Failure to properly maintain the e-scooter in a safe condition
Mechanical failures, including power surges and steering failures
Under Illinois law, all electric scooter drivers must be at least 16 years old. However, you don't always have to have a driver's license to operate an electric scooter. Someone with a valid state identification or driving permit can operate an e-scooter if they are at least 16 years old.
That means many e-scooter drivers might not have experience operating a motor vehicle. As it turns out, inexperienced electric scooter drivers are often involved in accidents.
How Do I Prove I Deserve Compensation From the Person Responsible For My E-Scooter Accident?
Electric scooters in Chicago and across Illinois are relatively new. Still, the same basic concepts that govern motor vehicle accident cases apply in e-scooter accident cases. Most likely, the victim will have to prove negligence to recover compensation.
Negligence means:
Someone owed you a legal duty of care
They made some type of mistake and breached their duty
The breach of duty directly caused an accident
The victim suffered damages, or injuries
It's also possible that your case could involve strict liability. For example, if a defective scooter or defective safety equipment contributed to the accident, the manufacturer can be held strictly liable without proof of negligence.
Who Can Be Held Liable for My Damages After an E-Scooter Accident?
Anyone who contributed to the cause of your accident can be liable for damages. That might include:
Electric scooter rental companies
Manufacturers of defective scooters or safety equipment
Negligent drivers
Other e-scooter operators
Bicyclists or pedestrians
Government agencies
Employers of negligent parties
Electric scooter companies like Bird, Lime, Lyft, or Spin
Liability is divided between all parties to an accident. That makes it especially important to fully understand why your accident happened. Our DuPage County scooter accident lawyers are here to help you prove what happened. Just call our law firm for a free consultation today.
What Is the Deadline For Filing a Personal Injury Lawsuit After an Electric Scooter Accident in Illinois?
The statute of limitations in Illinois is just two years. You have two years from the date of the accident to file a personal injury lawsuit. After the two-year anniversary of the accident passes, you can no longer seek compensation from the person who caused your accident.
Contact a DuPage County Electric Scooter Accident Lawyer for a Free Consultation
If you or a loved one were injured, contact Mathys & Schneid Personal Injury Lawyers for legal advice today. An experienced DuPage County electric scooter accident lawyer is always available to discuss your case. Better yet, your initial consultation is completely free of charge.